Wastewater Treatment Storage Silo for Sale
Waste water treatment technology has got rapid progress in recent years. The purpose of the water treatment process is to remove contaminants that exist in the water, or reduce the concentration of such contaminants so the water becomes fit for its desired end-use. One of the most important uses is returning water that has been used back into the natural environment without adverse ecological impact.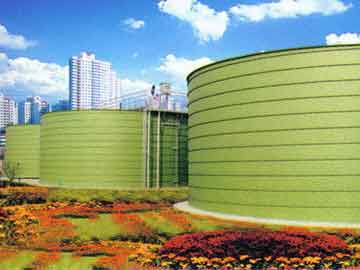 Wastewater treatment silos are not only used to store sewage and biogas, but also widely applied to other industries, such as light industry, waste water treatment plant and environmental protection project.
Flyer is a professional company in China specializing in construction of whole steel silos system for wastewater treatment, cement, fly ash, grain, industrial powder and chemicals. It's one of the top 100 private enterprises in China building materials. In the past 10 years, Flyer has proven its technology and experience for more than 1000 units spiral folding silos. We have many types of silo profiling units, such SM30, SM40 and SM50. We are always researching and updating our profiling equipment technology and our equipments have been exported to Indonesia, Vietnam, Malaysia, Russia, Singapore, Australia etc.
The spiral folding structure enables the silo with excellent integral solidity.
Five times curve plus sealing gum enables the silo with perfect air sealing.
Advanced equipment and working at site enable a shorter construction period.
Much cheaper price and almost no maintenance need to the silo body over a lifetime.
Professional Elite Team and Rich Construction Experience
Flyer has an experienced and well managed installation team and the team can manufactures the silo at your site. Flyer's own installation engineers team plays a respectable role for the success high performance whole silo system. Our motivated team has rich installation experience, work under strict and standardized installation management system, through installation cross-checking rules, and we promise one time project acceptance. Here are some of our successful wastewater silo projects for your reference.
Flyer provides advanced cement safety storage technology to assure your cement 100% quality stability.
Quality guarantee is one year after installation and commissioning or 18 months after leaving port.
7 days x 24 hours service, within 24 hours reply and solve your any technical issues upon request.
Routinely telephone track to remove all might be problems or issues guarantying the whole system long lasting safety and reliability.
Flyer will consider for all your other needs like customs clearance, sea delivery, insurance, customs tax benefit plan, documentations etc. So our respected users would feel relaxed and easy to get the silo system well.
Get In Touch With